Blair H. Granger, Esquire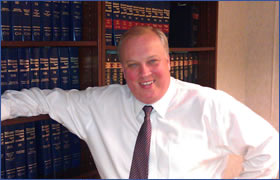 Shareholder
Admissions:
Commonwealth of Pennsylvania
State of New Jersey
U.S. District Court for the Eastern District of Pennsylvania
U.S. District Court for the District of New Jersey
U.S. Court of Appeals for the Third Circuit
U.S. Supreme Court
Education:
     Villanova University School of Law
   University of Pennsylvania, B.S. in Business Administration
Membership:
   American Bar Association
Pennsylvania Bar Association(Real Property, Probate and Trust Law Section)
Chester County Bar Association
Mr. Granger is a widely recognized expert on real estate issues. He is a frequent lecturer for attorneys and other real estate professionals on real estate topics, with a significant focus on title disputes, brokerage litigation and regulatory matters. A significant portion of Mr. Granger's practice involves title litigation matters, including handling claims on behalf of major title insurers for their insured owners and lenders. Mr. Granger has litigated numerous complex title claims matters ranging from boundary disputes to lien priority and validity as well as successfully defended suits against title insurers, including suits involving bad faith and RICO claims. In addition, Mr. Granger is thoroughly experienced in handling litigation involving real estate brokerages and has represented numerous real estate companies in litigation matters, including cases involving alleged broker misconduct or negligence. He has significant experience handling matters pending before the Pennsylvania Real Estate Commission and ethical and procuring cause disputes before Boards of Realtors. Mr. Granger has tried numerous cases and has argued before all of the appellate courts of Pennsylvania. Mr. Granger recently argued before the Pennsylvania Supreme Court, securing the dismissal of the appeal against a lending client after oral argument.
Mr. Granger's advocacy has resulted in the following published decisions in favor of his clients:
Janus Management Services, Inc. v. Schlessinger, 810 A.2d 637 (Pa.Super. 2002). Counsel for Amicus Curiae Pennsylvania Land Title Association
The Delaware Nation v. Pennsylvania, 446 F.3d 410 (3rd Cir. 2006)
Riverwatch Condominium Owners Association v. Restoration Development Corporation, et al. 931 A.2d 133 (Pa.Commonwealth Ct. 2007)
Ridings at Brandywine Associates, LP. v. Citizens Bank, (originally marked "Opinion not Reported", then subsequently reported at 388 B.R. 99 (Bkrtcy D.N.J. 2008), affirmed at 60 Collier Bankr. Cas. 2d (MB) 925 (USDNJ 2008).
Riverwatch Condominium Owners Association v. Restoration Development Corporation, et al. 980 A.2d 674 (Pa.Commonwealth Ct. 2009)
Scott v. BAC Home Loan Servicing, L.P. 2016 WL 320219 (U.S.D.C., E.D.Pa. 2016)
Mr. Granger also brings his real estate experience to the classroom for other lawyers, having taught courses for the Pennsylvania and Philadelphia Bar Associations since 1994, including such courses as "Handling the Failure to Disclose Case", "Effective Representation of Buyers, Brokers and Sellers", "Commercial Real Estate for the Non-Specialist", "New Developments for the Real Estate Practitioner", "Failed Real Estate Deals", "Advanced Issues in Title Insurance" and numerous other courses involving the standard of care for real estate professionals. Mr. Granger has also spoken at the Pennsylvania Real Estate Institute for the last eight years, including courses on title insurance, reviewing and drafting agreements of sales in commercial transactions.
Mr. Granger has personally handled or supervised well over 1000 real estate transactions conveying property, including commercial, residential and development property, handling the transaction from the agreement of sale to settlement. He has also directly handled or supervised hundreds of litigations matters involving real estate issues through settlement, trial and/or appeal and has acted as arbitrator numerous times. He has been accepted in both state and federal court as an expert on real estate legal issues, including being retained by the Commonwealth of Pennsylvania as an expert on closing procedures in settlements.
Read More: Blair H. Granger as a witness for Commonwealth of PA on a mortgage fraud claim.
The Granger Firm's expansive offering of real estate legal services can benefit an assortment of businesses, title insurers, individuals and home buyers or sellers in the Commonwealth of Pennsylvania. If your needs require the skills of prompt and diligent real estate lawyers who know real estate law, The Granger Firm can guide you through the entire real estate legal process.
Blair H. Granger, Esquire was selected by Main Line Magazine to the "Best Lawyers on the Main Line", real estate category, for 2010.
Please call or contact us today to arrange an initial consultation.
Contact us by phone: (610) 640-7500 - Click here to use our online form.